Southern Illinois cabins for rent. Welcome to Tomcat Hill Cabins!

Southern Illinois is full of good stuff! Our cabins surrounded by Shawnee National Forest, are in beautiful country – rolling hills, hardwood forests, ancient swamps, lakes large and small, and creeks and rivers that meander through it all and define our boundaries here in the tip of Southern Illinois. It's easy to imagine this area when it was still the Illinois Territories, back when a 2-year-old Urbane Robinson came here around 1809. And it's even easier to understand why the Robinson family came here, and why they stayed for generations, when you spend an afternoon out on the deck, friends or families gathered with you, here in a luxurious handmade cabin at the top of Tom Cat Hill in Southern Illinois.
Whether you are coming to our fine region for a visit to the Shawnee Hills Wine Trail, spending a weekend fishing or boating out on one of our many local lakes, hiking along one of the myriad trails somewhere within the Shawnee National Forest, or maybe biking on our quiet country roads, you should be sure to include a stay at one of our incredibly elegant cabins.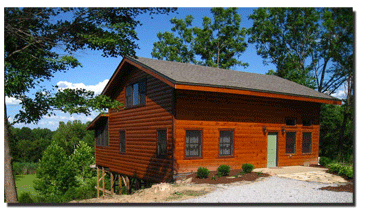 With two cabins to choose from – our original cabin completed in 2009 and our newest cabin completed in the summer of 2010 – we have something sized to fit your group and your personal tastes. Both offer nothing short of top-shelf comfort.
Now, we might be a little bit biased, but we've been told we have the most lavish and comfortable cabins anywhere in Southern Illinois. What with all of the amenities we have made 'standard' in our cabins – things that you would be hard pressed to find in any other cabins anywhere – we have to agree with the comments. Top it off with a nice quiet location with tons of history and all kinds of fun stuff to do nearby and we believe that you too will find Tom Cat Hill Cabins a memorable stay!
We have included online booking and we have improved our calendar function so you can easily check our available dates for either one of our cabins. Most of the choice dates go early, so be sure to book your stay well in advance. Our new reservation system allows you to guarantee your reservation with just a few clicks here on our website. Of course, we will be glad to call you and discuss any questions you might have over the phone, too – our contact information is here.
Thank you for visiting with us on the web! We hope to see you soon!
Tom Cat Hill Cabins
Fall, 2012